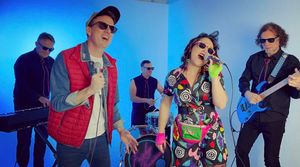 EXPERIENCE THE BEST OF THE 80's
Do you wanna dance with somebody? Get into the groove?  Get Footloose?
                                                           YOU ARE OUR PEOPLE! 
Bringing you the biggest dance and singalong hits of the 80's - live!  Corporate functions, parties, weddings, birthdays, festivals, themed nights at the finest live music venues
Let us transport you back to the era of big hair, big shoulder pads and great songs with Pseudo Echo, Eurythmics, Simple Minds, Michael Jackson, Rick Astley, Whitney Houston, David Bowie, Madonna, INXS, Cyndi Lauper, Bon Jovi, Roxette and more.
Contact us to come to your event, or see us at one of the fine establishments below
WHEN WILL YOUR 80's NIGHT BE?
Come and join us for a great night out at one of the fine establishments..... click the button below (you'll need to buy tickets for some events), or contact us to book your own special 80's night!